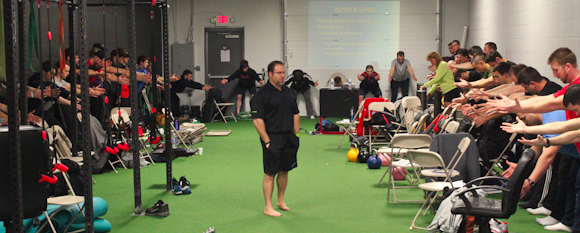 Charlie Weingroff: Low Back Pain, Squatting, Running & Olympic Lifting
Charlie Weingroff: Low Back Pain, Squatting, Running & Olympic Lifting
Charlie Weingroff in a Doctor of Physical Therapy and a Strength & Conditioning Specialist. He was most recently the Director of Physical Performance and Resiliency and Lead Physical Therapist for the United States Marines Corps Special Operations Command in Camp Lejeune, NC.  He is also Director of Clinical Education for the Vibraflex Whole-Body Vibration and Andante Medical, the makers of the SmartStep, mobile force plate.
Prior to returning to his home state of New Jersey in the Fall of 2006 after 12 seasons of professional basketball, he was the Head Strength & Conditioning Coach and Assistant Athletic Trainer for the Philadelphia 76ers in the NBA.   Among the highlights of his tenure in Philadelphia was being part of the medical staff that ranked 1st in the NBA in Player Missed Games in the 2005-06 season.
In the Interview Charlie Weingroff and I talk about Low-back pain, mobility, fitness and weight lifting.
Video 1: Charlie Weingroff introduction
Video 2: What is the Joint by Joint Approach
Video 3: How does lower back pain apply to the joint by joint approach?
Video 4: What's the optimal position of the lumbar spine?
Video 5: How can the ankle mobility effect the squat?
Video 6: How can you tell you have adequate ankle or hip mobility for a squat?
Video 7: What's your opinion on knee position in the squat?
Video 8: How could the joint by joint approach effect running technique?
Video 9: How could better mobility benefit Olympic Lifting?