Client Spotlight: Steve
Client Spotlight: Steve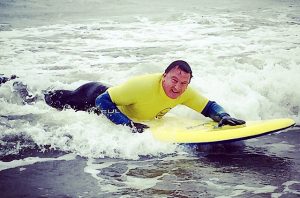 Steve, 59, a WPA healthcare partner from Warmley, Bristol.
Steve, who coaches cricket at Knowle Cricket Club, had a knee replacement after suffering several injuries during years of sport.
The former professional cricketer worked with Chris to get fit safely – and found the workout actually eased the pain.
He has since had a knee replacement and is in the best shape he's been in for a long time.
Why did you decide you wanted to work with a personal trainer?
I had been sporty and played cricket professionally for several years in the UK, Australia and South Africa. But I ended up suffering various injuries through years of exertion.
I damaged my knee during a football match and it had caused more damage than I realised at the time.
I had cartilage problems in my knee which was caused by years of sport where I hadn't taken good care of myself and played through injuries. In the end, I had to stop playing football completely and I couldn't run anymore either.
The pain got worse over time and doctors advised me I would need a new knee but I should wait for as long as possible. I've since had four operations and a knee replacement.
Prior to the knee replacement surgery, I decided I wanted to try to regain my fitness and get back into shape.
Why did you decide to use Chris Hole Training?
I wanted to get back into shape slowly and safely. I felt confident Chris could help me.
He clearly explained what the work involved and went on to make sure I carried out the exercises properly. He is an excellent coach.
How has Chris Hole Training benefited you?
Chris has helped me to tone up and get into shape. He has also made me more aware of my diet and what I should be eating.
We carry out a variety of exercises and movements, which I wouldn't have tried by myself. He helps me to have a full body workout, rather than simply focusing on specific muscles which I had been doing.
He helped me to get fit while preventing further damage to my knee. The exercise prior to the operation also eased the pain.
Would you recommend Chris Hole Training?
Yes, of course. Chris is very thorough in his approach to personal training. He presents the information well and I'm confident he is the right person to train me.
He is also very fit and healthy – leading by example.