What clients say
What clients say
Goal, Cycling for Triathlon
"I chose to do Personal Training with Chris as part of my preparation for the World Age Group Triathlon Championships, Olympic Distance, held in Australia in September 2009 (where I came 7th). My biggest benefit was a definite improvement in very specific areas of my cycling and running strength and power where I was able to slash 13 minutes off my personal best and win the British Triathlon Championship. I would add that I found Chris pleasant and calm to work with, he has the ability of making his client work hard without any element of bullying or unnecessary pressure and he spent quite a bit of his own time researching the finer points of cycling technique and specific training practice that suited me best."
Goal, Relieve Back Pain & Toning
"I have suffered with a back problem for nearly twenty years, it wasn't until I started training with Chris that my back health really started to improve and quality of the training has kept me motivated, clearly feeling and seeing significant improvements and results in a short time. I am delighted that Chris is dedicated to his work and has an unquenchable thirst for knowledge, development and progression, in all areas of his work health, fitness and diet."
Lisa S, Clifton
.
Goal, Core Strength & Stability
"After the birth of my 3 children all by C Section, the 3rd did not heal Properly and I was left with a large separation and Hernia. I was very nervous starting exercise again and after a few sessions with Chris I felt much stronger and confident and only 3 months later my core is much stronger than it has ever been. I never considered Personal Training but through Chris' dedicated program of exercise focused on my core I have been amazed at the difference working with Chris has made."
Sarah B, Bishopston
.
Goal, Sports Fitness
"My main leisure activity is racing a sailing dinghy and my reason for choosing personal training was to improve my fitness in order to improve my sailing ability. Chris constantly encourages me to push myself further and this has resulted in significant improvement to my strength, fitness and sailing, I feel much healthier, more alert and I feel that I have really progressed in that short time"
Bob C, Easter Compton
.
Goal, Improve Posture & Lordosis
"Following years of bad posture and incorrect movement my muscles became extremely tight, resulting in soreness from even light exercise. I've been working with Chris for the last 12 months during which time he has helped me 're-programme' my movement patterns. I now have greater flexibility, muscle suppleness and  core strength; enabling me to get back into sport without the fear of injury! I would strongly recommend working out with Chris; he's dedicated, approachable and, above all, more knowledgeable than the vast majority of professionals in his sector. He's constantly educating himself on human kinetics which keeps him abreast of the latest, and most progressive, training methods in the industry."
Mo K, Business Consultant
.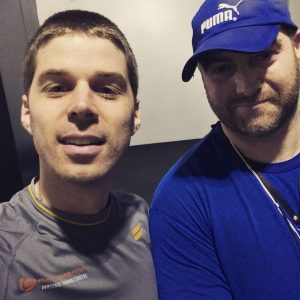 Goal, Relieve Back Pain & Strength
"Since playing hockey at a high level and as a Dentist I am sitting for the majority of the day as a result I started to get a mild pain in my lower back, it wasn't chronic but enough to distract me from my work and after a number of months I needed to get it sorted. After just 4 weeks my back showed incredible improvements and the final 8 weeks I was able to focus on increasing my strength something I've been wanting to do since I was a student."
Brad H, Stoke Bishop
.
Goal, Lose Weight & General Fitness
"I had been a member of a gym for many years and lived a relatively health lifestyle but no matter what I did I couldn't lose weight. When I met Chris I weighted 234lb's I told him my dilemma, straight away he knew what to do, after 3 months with Chris I had achieved something I didn't think was possible, I had lost 28lbs that's 2 stone of fat gone! This is the lightest I have weighed in 20 years, thank you Chris.
Indy A, Stoke Bishop
.
Goal, Sports Fitness
"I am a keen runner, rower and cyclist but due to work my fitness had to take a back seat, I met Chris to my fitness level back and was very impressed with his friendly approach and knowledge of exercise, sport and fitness. Since working with Chris my fitness level has reached a level to which I would not been able to attain on my own and significantly improved strength and endurance for my sports. I would definitely recommend Chris to anyone who want to their sport performance"
Ian L, Easter Compton
.
Goal, Weight Loss
"I wanted to lose weight, feel more confident about my body and learn more about how exercise can help me do this, when I started I want to lose a stone and a half in my first 12 weeks and now those 12 weeks have finished I have lost 2 stone which far exceeded my expectation and I feel much better, fitter and am really enjoying the sessions. Chris helped me achieve this designing a program specifically for me that sets new challenges for me all the time, he has also encouraged me to eat well and gave me great advice about what to eat. I love the training sessions and would strongly recommend Chris to anyone wanting to lose weight or improve their fitness.
Joanna H, Clifton
.
Goal, Half Marathon Training
"I wanted to run the Bristol ½ marathon and was aiming for sub 10min miles and after 12 weeks training with Chris I completed it in 2hrs 1 min which works out to 9min 30's per mile. Training with Chris has made a big difference in terms of support, motivation and core fitness. Based on amount of time spent actually running and length of training plan, I achieved a comparatively better result than I have in any of my previous 5 half marathons!!!"
Rachel T, Clifton
.
Goal: Bristol 10k Training
"I wanted to run the Bristol 10k 50 minutes and asked Chris for help, he was able to write a training plan specific to me that was able to my running speed and technique. With this training plan combined with weekly 1 to 1 sessions my motivation always remained high resulting in me completing the 10k in 48 minutes faster than I originally planned"
Jane C, Redland
.
Goal: Half Marathon Training
"After the Bristol 10K I challenged myself to run the Bristol Half, I wanted to keep up the same pace from the 10k meaning completing it in 1hr 44 minutes. Again I asked Chris for help and he provided me with program specific to me with appropriate exercises and supported with weekly 1 to 1 sessions. Due to work and family commitments I wasn't able to complete all the training, which was nobodies fault, but with the support of Chris I completed it in 1hr 55 minutes without it I wouldn't have run it at all"
Jane C, Redland
Goal: Overcome Back Spasm
"I injured my back lifting a cooker awkwardly, It was a fairly serious injury that left me in a lot of pain. I decided it was time to start the journey back to fitness and a friend referred me to Chris knowing that he is an expert in this field. I was very nervous that it wouldn't be possible or that I would injure myself again. Chris's approach really put me at ease, mainly due to his knowledge about what needed to be done to build up my strength so that I was able to train again. It's really been worth it. After 24 weeks I've seen change from being able to do only a few simple stretches and not a single push up to running 3 or 4 times a week again and in the gym doing strength workouts."
Jackie F, St George
Goal: Aerobic Fitness & Lower Back Pain
"I began personal training with Chris because I had poor aerobic fitness, making me out of breath in seconds when doing certain exercises and had problems with lower back. With his high level of expertise & knowledge in the areas, which I was in need of, he was able to design an appropriate yet simple programme to tackle the problem. He has always been positive and very focused during every single repetition on every exercise. The programme has been life changing and enjoyable and I'm looking forward to find out what level fitness is now achievable for me."
Niels M
A massive thank you to Christopher Hole an experienced Teacher with such a belief in his research and methods. But …trust me listen to this man and he also turns out to be a top bloke too. HIGHLY recommended  him as a Teacher/Personal Trainer, he's a top man who you can always turn to for advice in the health & Fitness Industry and for a general Chat.
Jamie Price